Cyber 5 is just around the corner, and it seems like the holiday spirit is making a triumphant return. Shoppers and Marketers alike are gearing up for the Cyber 5 season filled with joy and excitement, and there's a buzz of anticipation in the air. Consumers are steadfast in their intent to live in the moment and make this holiday season truly memorable.
So, what can we expect from the 2023 holiday shopping season?
Well, the numbers are certainly looking promising. The Cyber 5 holiday sales in 2023 are projected to experience significant growth, outpacing what we saw in 2022. The forecast suggests that holiday retail sales will reach a whopping $1.317 trillion, marking a substantial 4.5% increase.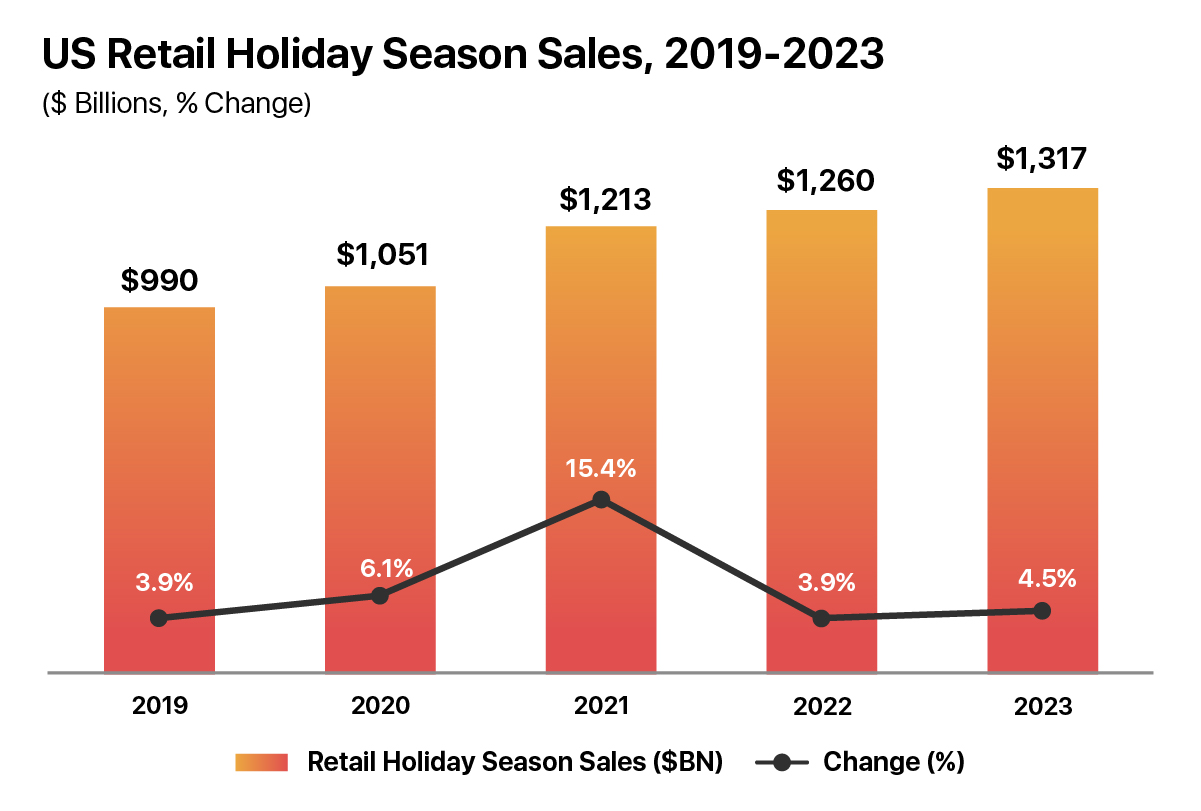 One trend that's not showing any signs of slowing down is Cyber Monday's dominance as the No. 1 spending day.
This year, Cyber Monday is expected to see an 8.4% increase, with online shoppers collectively spending around $13 billion. It's clear that the allure of online deals and discounts continues to draw in consumers.
But it's not just Cyber Monday that's making waves. Black Friday is set to break new ground as it tops $10 billion in e-commerce sales for the first time. Thanksgiving, traditionally a day for family gatherings and gratitude, will also make a significant contribution to e-commerce sales, nearly reaching $6 billion. This is largely due to the continued closure of many brick-and-mortar stores, as consumers opt for online shopping convenience.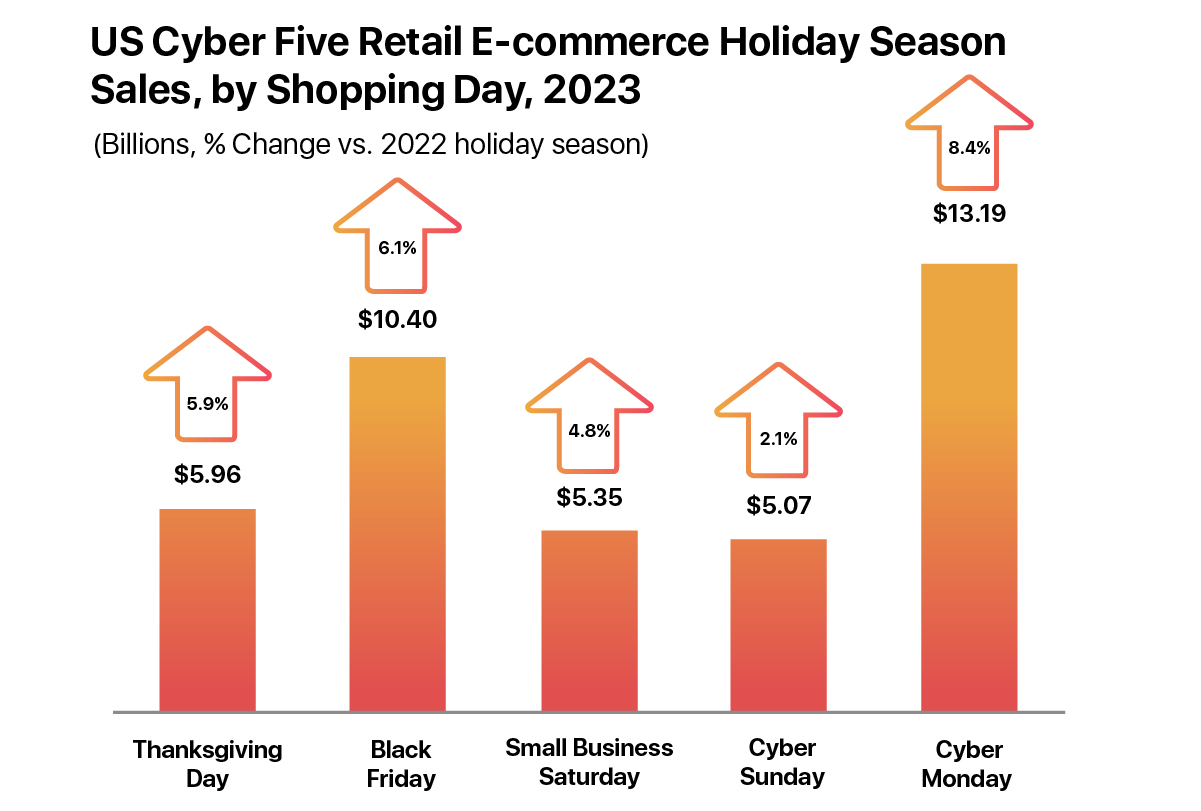 Holiday Shopping Trends:
Apparel and Accessories Take the Lead
While some shopping trends are finding equilibrium this year, the spotlight is shining brightly on the "Apparel and accessories" category, which is expected to be the top holiday season e-commerce category. With a projected $55 billion in e-commerce sales, this category is poised to grow by an impressive 12%. Additionally, the "Food and beverage" category is set to be the fastest-growing, with a remarkable growth rate of 22.2%, reaching $21 billion in sales.
Beyond these categories, "health and personal care," "toys and hobby," and "auto and parts" are also expected to see faster growth than the overall U.S. holiday season e-commerce benchmark of 11.3%.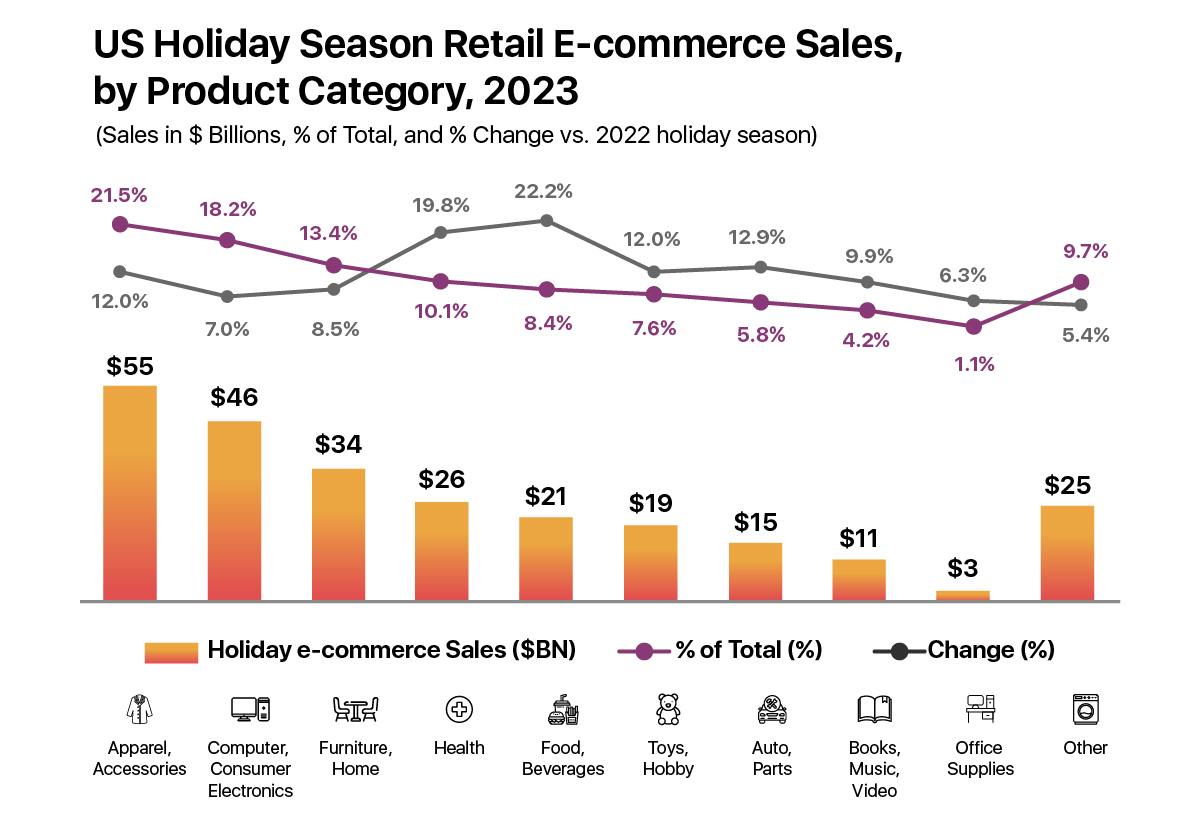 So, what do these trends mean for marketers?
In this highly competitive landscape, a winning marketing strategy may come down to driving value around key promotional events. As consumers gear up to spend, businesses should prioritize maximizing their efforts during the Cyber 5 season.
Ad Tech performance solutions like SitePlug play a crucial role in enabling the creation of smooth shopping experiences that effectively convert potential customers, when they are most motivated to buy.
How can this be accomplished?
Eliminating Brand Domain Typos for a Seamless Brand Navigation
Site Direct Ad Tech corrects typo errors in the brand's domain, guaranteeing that users arrive at the intended websites they were seeking.
Suggesting Brand Links Proactively Based on User Intent
Site Suggest Ad Tech identifies the user intention, suggesting the brand's link even before the user accesses the search results page.
Captivating Users with Innovative Content Placements During Their Shopping Journey
By leveraging coupons, discounts, deals, email clients, price comparison, reviews and more to captivate users at pivotal moments throughout their shopping experience.
SitePlug has been instrumental in driving sales worth $1 billion for 1,700 global brands, such as Shutterfly, JTV, Vitacost, and others. It connects potential buyers through an extensive network of over 10,000 unique publishers. This makes it evident that the Cyber 5 holiday spirit and joy persist, even as consumers contend with inflation concerns.
With an optimistic outlook and promising performance solutions, advertisers can look forward to a memorable and prosperous holiday season in 2023.