The OTT video subscription business has now reached a near-ubiquitous level in homes, globally. Tech-savvy users' early adoption and traditional viewers' shift from linear TV to OTT are behind this increasing mass acceptance. According to eMarketer's Digital Video Trends for USA report [1], Linear TV experienced a 7% decline in viewing time from 214 minutes per day in 2020 to 199 minutes per day in 2021.
In comparison, OTT viewing time increased 6.6% from 72 minutes per day in 2020 to 77 minutes per day in 2021. Thus, amidst an abundance of options, consumers are continually moving away from linear TV subscriptions to OTT subscriptions.
Drivers of the surge in OTT demand
Entertainment & Media (E&M) players have entered an aggressive phase in their OTT offerings, leading to the proliferation of high-quality content on OTT platforms. Consequently, consumers are more than happy to subscribe to multiple platforms that offer them quality entertainment. This has led to increased platform subscriptions with users consuming more OTT content than ever before.
Additionally, the number of cord-cutters (consumers who shift from wired linear TV to OTT platforms) and cord-nevers (new-age consumers who have never owned a traditional television) continues to grow thanks to the ease of use and the availability of preferred content. According to this [2] Forbes article, the number of cord-cutters and cord-nevers has more than tripled from 15.6 million in 2014 to 50.4 million in the USA today, further highlighting a shift from linear TV to OTT platforms.
Breaking into viewers' consideration horizon
SitePlug's products empower OTT marketers to be present where these prospective subscribers are. They help platforms achieve new subscribers and higher sales.
The internet is today abuzz with media review blogs and recommendation posts. Viewers often view these posts before diving into a movie or a web series. Besides, the tendency to hunt for holiday season deals prevails among OTT subscribers too. SitePlug's Site Discover product nudges prospective customers towards OTT platforms by being present alongside such review blogs and recommendation posts. It plugs in brands' coupons, banners and email inserts and makes a prospective viewer's purchase journey truly relevant – both for the user and the OTT platform.
In their effort to know an OTT service before buying its subscription plan, users often enter the OTT company's name into their web browsers. However, customers are prone to committing typographical errors. These typing mistakes take the users away from their desired OTT platform – often to malicious websites or 404 error pages. Consequently, the OTT provider loses out on precious subscription revenues and even experiences a loss of its reputation. SitePlug's Site Direct product is just the appropriate solution in this scenario. Instead of misleading users, its algorithm detects users' typographical mistakes and then directs them to their desired OTT platform's website. This contributes to higher conversions, better visibility and appropriate use of marketing budgets.
The E&M industry is not averse to the holiday season flood of offers. This makes it more important for OTT brands to capture the viewers' interest early. However, ads from competitors lead subscribers away even as users are trying to search for a particular OTT platform. SitePlug's Site Suggest product identifies a prospective customer's input on search engines and leads them to the desired OTT brand's website by bypassing the search page. This convenient single-click passage to the OTT's website results in 2x faster navigation and boosts conversion rates.
Winning with SitePlug's products
The OTT industry continues to heat up with new entrants, innovative plans and rich content. Brands in the space can stand out from the clutter by employing new-age tools like SitePlug's products.
With the power of search and content, SitePlug's smart products have already helped OTT platforms generate: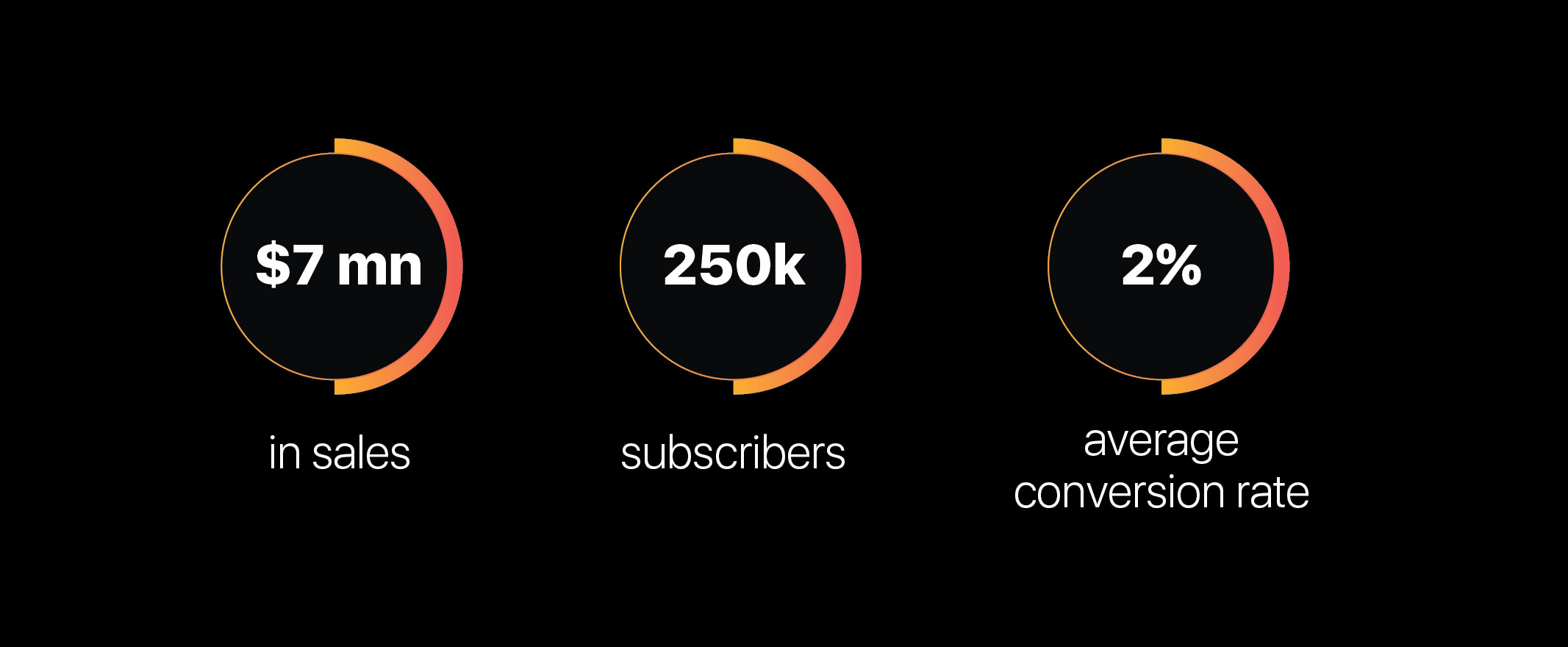 With these convincingly impressive results, OTT players would do well to partner with SitePlug's innovative products to land more subscriptions.
[1] https://on.emarketer.com/rs/867-SLG-901/images/eMarketer%20DigitalVideoTrendsReport2021.pdf
[2] https://www.forbes.com/sites/tonifitzgerald/2021/05/27/the-number-of-cord-cutters-and-cord-nevers-has-tripled-since-2014/?sh=cfd25de1f12c
[3] http://cdn.hl.com/pdf/2021/digital-media-ott-newsletter-fall-2021-.pdf 
Interested in exploring how SitePlug can help drive subscriptions for your brand? Fill the form below to know more about our products.