Potential customers could have heard of your brand from anywhere – a hoarding, a friend, or an online ad, to name a few sources. Their purchase journey begins at this point, much before they land up on your brand's website to make a transaction. Usually, the awareness stage leads them to search for your brand online. This is half the battle won. Or is it?
How brands lose online users
The other half of the battle, however, is to actually get your users to engage and transact on your website. However, this is easier said than done, mainly due to users' attention spans that are shortened by distractions on the internet.
Brands lose high-intent users to competitors' ads on search engines. It is easy for competition to target brand keywords on search engines while running ads. And this is just one of the ways. At other times, some users enter your brand's domain name incorrectly, leading them to parked pages and away from their journeys on your website.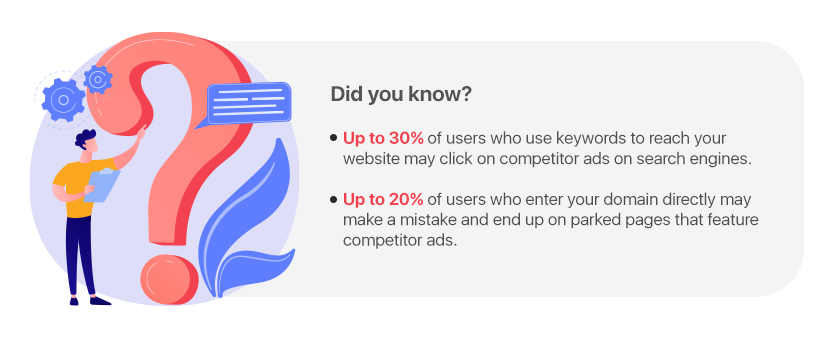 Thirdly, some users reach your brand's website through keywords entered in search engines. Oftentimes, though, competitors may also bid on these keywords, causing them to appear before your brand with offers and discounts that distract users. All of these factors spell serious revenue loss for marketers.
Solving the problem of lost users
When there are many such typo domains, this can prove to be a costly affair, costing up to a few million dollars, plus recurring charges for maintenance and the human cost of management.
A more cost-effective solution to this arrangement is to use services like Siteplug and its products – SiteDiscover, SiteDirect, and SiteSuggest. SitePlug has partnerships with over 100,000 publishers for content placements in addition to the ones with mobile device manufacturers, browsers and launchers, all so that brands can aid a user's purchase journey every step of the way.
What the research says
According to Siteplug's internal study, users show interest in a competitor's ad by engaging with it. In fact, some customers end their buying journey altogether instead of correcting themselves and restarting their journey.
This loss incurred by a brand is not even considered or captured as a loss, as users drop out of the buying journey even before it begins on a brand's website.
Siteplug helps/targets these users on a favourable buying journey, delivering incremental sales for your brand. Contact sales@siteplug.com today to book a free trial.
[1] https://gs.statcounter.com/search-engine-market-share
[2] https://junction.cj.com/article/prevent-traffic-leaks-grow-business-siteplug
[3] https://partnercentric.com/publisher-press-siteplug-and-veve/
Interested in exploring how SitePlug can help bring back lost users for your brand? Fill the form below to know more about our products.