According to Gallup, consumers will spend an average of $932 on holiday gifts this season, up from $837 in 2021. That's good news for retailers – but it also raises the question of how to stand out in a crowded marketplace. This blog looks at ways retailers can hone in on high-intent shoppers during the holiday season.
Consumers are budget-conscious but ready to spend: Here's how to reach them
Here's the dilemma facing retailers: While consumers are willing to spend more this year, they may be more judicious about how they spend their money, according to a recent report by McKinsey, purchasing fewer items based on their budgets. For example, 37 percent of consumers are buying holiday gifts earlier this year than in 2021 to take advantage of sales, according to a Salesforce report. In addition, 85 percent of consumers are now looking for cheaper alternatives to their favorite brands and retailers due to inflation concerns, per Marketing Week. That means retailers with the best deals and the ability to reach consumers first and at the right moment will have a significant advantage over their competitors this holiday season.
Services like SitePlug can help brands and retailers stand out amidst the noise by leveraging a vast network of search, content, coupon, and deal publishers to deliver the right consumer engagement opportunity at the right time. SitePlug has helped e-commerce companies generate:
SitePlug also enabled top brands in e-commerce categories, including electronics, fashion and apparel, groceries, and home and garden, to generate sales of over $304M:

Making timely brand messaging stand out
According to a recent Retail Dive survey, 65 percent of consumers will spend more time researching deals before making a purchase. Consumers hunting for bargains will use every tool at their disposal—about two-thirds of consumers use their tablets or mobile phones to search for holiday gifts, and about half of these shoppers say ads offering deals or rewards have influenced them to make a purchase, per Forbes. According to a recent study by Gartner, most consumers are looking for help in compiling their holiday gift lists, and most go online to do so.
While 28% of consumers are not looking for gift inspiration, 35% use their friends' and families' wish lists as a guide. Many consumers look outside their social circles to choose what to buy and where to shop. 22% of consumers will search on Google, 18% will look to brand websites, 11% will use information from brand emails, and 10% will look to print catalogs. Others will look for shopping ideas on social media sites, including Instagram (7%), YouTube (7%), Pinterest (6%), Facebook (4%), and TikTok (2%).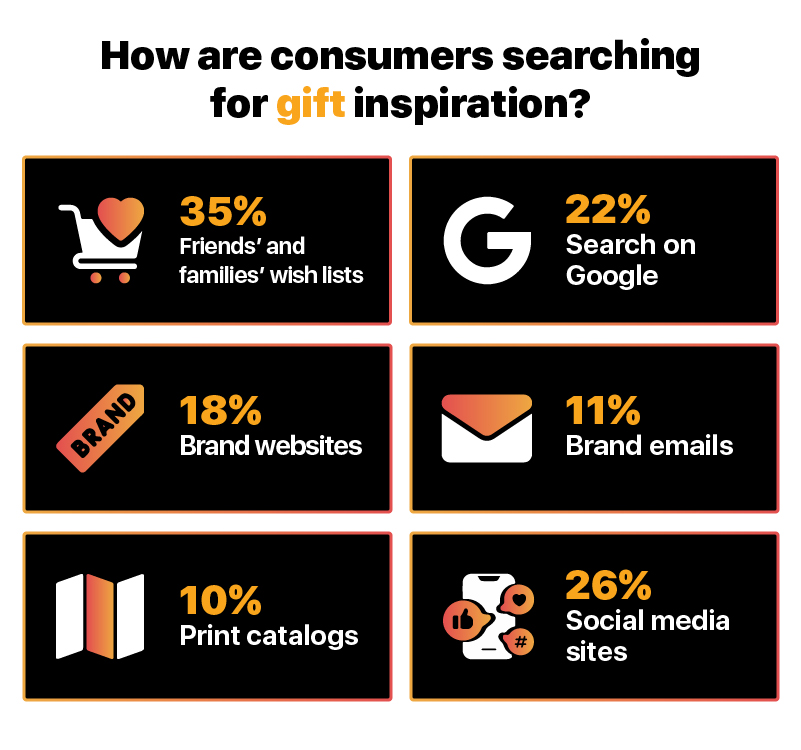 That means retailers must be able to reach consumers on multiple platforms, whether they are searching for deals via Google search or scrolling relevant content on Instagram. Enter SitePlug's Site Discover, a tool that provides targeted 'Buy now' widgets, coupons, banners, and email inserts that help brands stay top-of-mind for consumers.
Another way retailers can stay ahead of the competition is by recapturing potentially lost leads: a spelling error may take customers to malicious websites or a 404 "this page does not exist" error. Another product, SiteDirect – identifies typos and spelling errors and redirects users to the right brand page. That means consumers end up on the right page, which presents an opportunity to learn more about the product or service they want, not on a blank page or spoofed malicious website. This creates a poor user experience and increases the probability of new customer loss.
A third SitePlug product, SiteSuggest, makes it even easier for consumers to find what they are looking for by suggesting sites that offer a single-click passage for shoppers to purchase the product they want directly from the browser, bypassing the search engine results page entirely. SitePlug also has access to 10,000+ publishers ranging from search, content, coupons, deal sites, and mailing applications across unique formats making this media easily accessible to brands without any technology integration.
Stand out and stay relevant with SitePlug
Brands may need to put extra effort into winning consumers' holiday budgets this year, and that means ensuring no opportunity to reach a consumer is lost.
Interested in exploring how SitePlug can help cash in on consumers' holiday season spending? Fill out the form below to learn more about our products.